M & I went to the Royal Albert Hall last night to see Mr Crosby and Mr Nash. Not sure where Mr Stills is but we didn't really miss him. A thought provoking and emotional evening for me and not just because of the music. First shock was how old the audience were. Nipped to the Gents before it started and looked in the mirror and realised they were only as old as me. Got me thinking about the first time I went to the RAH, it was way back in – hang on I am sure I can Google this…..surprisingly no! It was a Ricky Nelson concert in 1973 or 1974. I blagged a free ticket from the support who were an American duo called Seals and Crofts – we shared a religion but that's another story. Their greatest claim to fame is that they wrote 'Summer Breeze' which was a hit for the Isley Brothers. Anyway I can remember having the same reaction way back then- the audience looked so old. Mainly hysterical housewives screaming at heart throb Ricky. Looking back I suppose as Ricky Nelson had his hits in the fifties and sixties most of these women were probably in their forties – but as I was about 18 that did seem old.
The venue was stunning and still is. The acoustics were terrible and still are – well they have got a little better with modern technology and those mushroom things they hang from the ceiling. But the building is beautiful to look at and must have been quite a wonder of modern architecture when it was built. The venue did not escape the notice of the performers and I thought their comments rather neatly summed up their characters and origins. Dave Crosby stood back, looked out from the stage and then said, in soft Californian tones 'You guys have no idea how this looks from here. Must be the prettiest venue in the whole world'. Graham Nash, bare foot and still the cheeky Lancashire street lad, looked left, right and then up to the enormous dome and said 'It looks like a giant tit'.
M managed to get us excellent seats in a box on our own right above the stage. Got a bird's eyeview of Dave Crosby's bald patch. To be fair they both looked great considering that Crosby is 70 and Nash, 69. It is easy to forget how much these two men have contributed to pop and rock history. Got me musing about what it means to belong to the generation I do. I have heard it said that everyone thinks they were born into the generation that has had the best deal and the best of times, made the greatest contribution etc, We should all be thankful for that. But I think I could argue a strong case for those who were teenagers in the late sixties and early seventies having been particularly blessed. It was so exciting and the field was still wide open. So many rules to break.
I don't rush to get tickets for my old heroes doing gigs these days. I think there are two risks – it might have all gone a bit limp and cabaret and/or the emotion might turn me into a gibbering wreck. Both were avoided last night – though one only narrowly. There is something that goes very deep when you find yourself listening to music that that meant such a great deal to you forty years ago or even earlier – especially when the artists that sang it are standing in front of you. Graham Nash was in the Hollies and they started the second half of the gig by bringing on the Hollies lead singer Allan Clark and doing 'Bus stop'. Which was a UK hit in 1966. They opened the first set with 'Eight Miles High', which was a hit for the Byrds, surprisingly also in 1966. Bus Stop I certainly sang as an 11 year old but I don't remember hearing 'Eight Miles High' until much later. There may be other contributing factors which I won't go into here.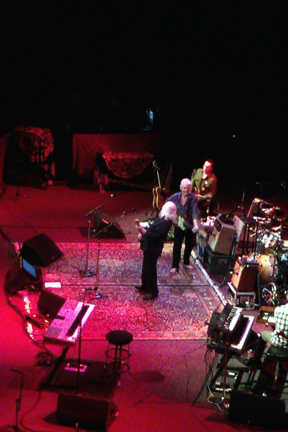 And I haven't even mentioned the CSN stuff. Almost Cut My Hair, Déjà Vu, Wooden Ships. Marrakesh Express, Teach Your Children Well. When C, S & N stunned everyone at Woodstock – no I wasn't there but did see the film the week it came out – I think for me there was a sense of vindication as well as pure joy at their music. The nay-sayers would have to take this seriously. There was no denying those harmonies were expertly crafted, note perfect and achingly beautiful. They might be a bunch of stoned freaks but they were above all stunning musicians. One other interesting fact – that Woodstock performance was only their second gig.
Anyway back at Albert's rotunda, I thought I was holding it together really well. Sang along to Bus Stop with gusto. Then Nash sang a song about his domestic bliss with Joni Mitchell a long time ago: 'Our House'. And that was me done.
It is really heartening that men entering their seventh decade can still sing like angels. And that grown men are allowed to weep. I was not the only one.
I am sure I saw a documentary where Graham Nash talked of how it began for him and C, S & (eventually) Y. He had played Marrakesh Express to his band mates in the Hollies but they didn't think it was right for them – not commercial enough. Not long after, he was at a party in LA and was invited to join Dave Crosby in a hot tub with several somewhat under dressed California girls. Later he sang the song to Crosby. Crosby loved it. Hmm decisions, decisions. Lancashire, rain, grumpy bandmates or California, sunshine, foxy chicks and jazz cigarettes. Don't suppose he hesitated long. Interesting to muse on how different things might have been if the Hollies had liked it.
If someone had tried to tell me way back in 1973, as I nodded my head and flung back my shoulder length hair, way up in the Gods of the Royal Albert Hall, that in 40 years time I would be back here reduced to tears by a song I had probably even by then already heard a hundred times – I probably would asked for a pull on his joint.
Mind you if he had also told me it was going to cost £65 for the ticket and £4 for a bottle of beer I would have been highly suspicious of any drugs he had been taking! No way, maan. But not 'Too much'.