Monday
Lunchtime start on the road to Debre Marcos . Hilton staff helpful and joshing as we pack the 4x4s. Then off through the suburbs of Addis . Teeming with activity and humanity and every type of vehicle imaginable – nearly all of them totally dilapidated. Once out of Addis we pick up speed and pretty much maintain it at all times. This seems to be the norm. It is scary but again not really aggressive driving. The concept of slowing down when you enter a village does not exist. Horn used constantly just to say we are coming but everything carries on with donkeys, goats, horses, bajajs (Ethiopian name for tuk-tuks) and people somehow managing to narrowly avoid collision. The roads are lined with tin shack shops selling fruit, pots and pans, welding shops making gates and fencing, kids gathered round table football sets and table tennis tables. Approaching and leaving towns and villages, hundreds of people walk by the side of the road or drive two wheel carts drawn by donkeys or horses. They carry huge amounts on their backs wrapped in khaki cloth. Outside Addis we see a constant stream of women of all ages carrying an unbelievable amount of firewood on their backs down from the forest to the city. Not sure what distance they carry this but we were still seeing them about 10 miles out of the city.
The road doesn't really change much and every town has the same incredible range of goods and humanity. Everywhere we go men and children wave and shout or smile. Even in the distance working in the fields, the people can spot a ferenje vehicle and shout and wave or ululate or crack their whips. Once well out of the city we are in medieval agricultural territory. With thousands of acres being ploughed by oxen with long wooden ploughs, the men walking behind constantly laying the whip across the hind quarters of the oxen. In the evening we see the men carrying the huge ploughs back home on their shoulders. Cattle here are not sacred but the way they wander into the road they possibly think they are.
Eventually the terrain changes as we enter the more mountainous areas and climb up to the ridge of the Blue Nile gorge. We stop at a vantage point to look at the view. There is no-one in sight but within about one minute of getting out of the vehicle people begin to appear running up the hillside clutching woven baskets and carved stone crosses. The pressure to buy becomes a little uncomfortable with these young adults and children trying every technique from cute to pleading to mildly aggressive 'You mister, you buy this now. 30 birr. You give me now' Accompanied by menacing stares! But as he is only about 12 and stick thin ………
Then we are winding down the gorge to the bridge over the Blue Nile. We are allowed to walk over the old bridge but not the new one which is guarded by soldiers with rifles. The Blue Nile is decidedly brown. As we climb up the other side of the gorge we pass a tree clattering with bird noise and when we look it is decorated with dozens of woven nests suspended from the branches and twice that number of bright yellow birds.
Soon we are driving in the dark which the guide books say is really not a good idea. I agree entirely. If driving during the day was scary this is terrifying and the lights on the truck are not too impressive either. People and animals loom out of the dark every few minutes and it is really hard to see the regular holes in the road.
After an hour or so we reach town and the hotel. The drivers tell us 'no more night driving'. The hotel has rooms but no electricity. Then they do and then they don't then they do again but it waxes and wanes. Anyway there are beds and it is secure and we eat there and the food is good. We sleep OK but are woken several times by the dogs howling in an amazing cacophony which doesn't last long and finishes so abruptly it is as if someone flicked a switch. Rebecca says it is because they hear the hyenas coming and they will pick out a dog to separate off and kill.
Morning comes and we have tea and French toast and get back on the road.
The road becomes even more crowded with agricultural vehicles and workers and we pass through many towns all buzzing with activity – country people, people in modern dress, priests with matching umbrellas.
Soon we head off the main road and stop to ask for a waterfall that Rebecca wants us to see. It is called Fang but no-one seems to have heard of it, even when we get really close they do no t know the name. Then we are off down a very rough mud track lined with mud houses, lots of kettles smoking outside and very thin horses and cattle. The people obviously do not see many ferenje go by their front doors. Almost everyone waves and shouts and the kids run after us for miles. This is a very muddy track and at times even our 4×4 vehicles struggle. The track ends in a newly planted field and we now have about 15 of the most determined kids with us. Many of them speak a little English and they are obviously going to guide us down to the waterfall – whether we like it or not.
The path is steep and slippery and the kids are at times a hindrance rather than a help – vying to grab at your every limb and place your foot in the safest place in their opinion or trying to stop you touching poisonous plants. To my horror my guide decides to call me granddad and congratulates me on every step for making it as if I am in my eighties. The climb down is short and definitely worth it. The waterfall is not high but the power of the water cascading over the ridge is awe inspiring with the spray reaching us hundreds of yard away. I take time to get out the gorilla pod and put an ND filter on the camera so I can blur the water – and later discover a huge blob in the middle of the filter ruining all my efforts. It is all a bit rushed – especially for a granddad. When we reach the top I tell my guide I will wait for my wife. He asks which one is my wife with a look of incredulity. When I point out Marianne he punches me good naturedly and congratulates me for getting myself a young wife.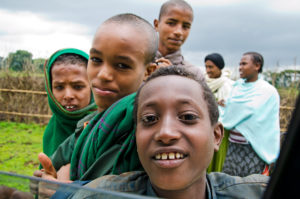 Then things go a bit wrong. Fion is crying and says his money – only 10 birr or so –has been stolen by the village kids. Johnny gets upset and starts shouting at the kids. The drivers get wind of this and somehow think a mobile has been stolen and go running off into the village pursuing two young boys. The atmosphere turns dark. Rebecca arrives and gets very angry with Johnny for kicking off at the kids. Just when we think it can't get any worse the whole adult population starts to arrive and surround the vehicles. Rebecca looks worried that this could turn very unpleasant. There are maybe 200 hundred villagers and the drivers are missing and the vans are locked. But things seem to calm down and the drivers re-appear though they are still threatening some of the kids. We go back to the vans and give our guides some money and sweets but the frenzy starts again with many children shouting for money and stopping us getting into the vehicles. It is not menacing but hard to control. An older boy is trying to stop the children begging with not much success but eventually we are all on board and manage to set off again with dozens of villagers running alongside us and people waving from all the houses.
We learn just how easily wars start! And perhaps to be a bit more sensitive. Still don't know what really happened – maybe Fion dropped the money. Most villagers seemed horrified to think that someone would steal from their guests. Then again kids are kids the world over.
Back to the main road and off towards Bahir Dar – our next stop on the shore of Lake Tana. Travel is exactly as before – frenetic with lots of swerving and braking hard. Swimming through a throng of people and animals.
When we reach our chosen hotel the Guion on the lake I admit to being initially disappointed as I thought it was going to be an idyllic spot on the shores of a lake with gently lapping water and chalets opening on to the shore. But the town is actually on the lake and the hotel is on a busy road though in a compound. The hotel is extremely run down. To call it one star would be extremely generous. In Europe it would be condemned in an instant. Our room is very damp and the furniture is ancient and filthy and the bathroom wet and black with mold. The electrics are fragile and intermittent. But it is secure and safe and we are tired so we check in. It is also very cheap. Maybe £10 per night. The lake is hidden behind corrugated iron sheets but there are beautiful if dilapidated gardens andthe birds are spectacular and very tame, eating off the tables and sitting in trees all around us. We get settled in after we have had room changes because of non-working locks and dodgy electrics.
We eat on a veranda built round a huge tree. The food is good and again very cheap and the staff very friendly. There are many nationalities here -English, German, Catalan, Belgian. The lake is huge – like a sea really with no sign of the far shore. There is a monastery near buy with amplified chanting of the monks until midnight. The shore path is busy with an air of ne'er do well about it. But we eat good food and go to bed with lots of mosquitos trying to find a way into our net. Tired but feeling secure and healthy if a little damp.
Before dark we go for a short walk and visit the luxury hotel next door which is five star and currently houses the friend s of Rebecca we met in Addis. It is low season and we could stay there for a very reasonable rate but still ten times what we are paying at the Guion.
The next day is sunny and the gardens are beautiful and the birds are back in cups. Breakfast is fine then we head off for the market. Nothing like Mercato but still a shock to all the senses with open sewers criss-crossing it and again we are the subject of much attention from both stall holders and children. All friendly and many with a few words of English.
I am going to try and post this and add fotos later – whilst we have a connection