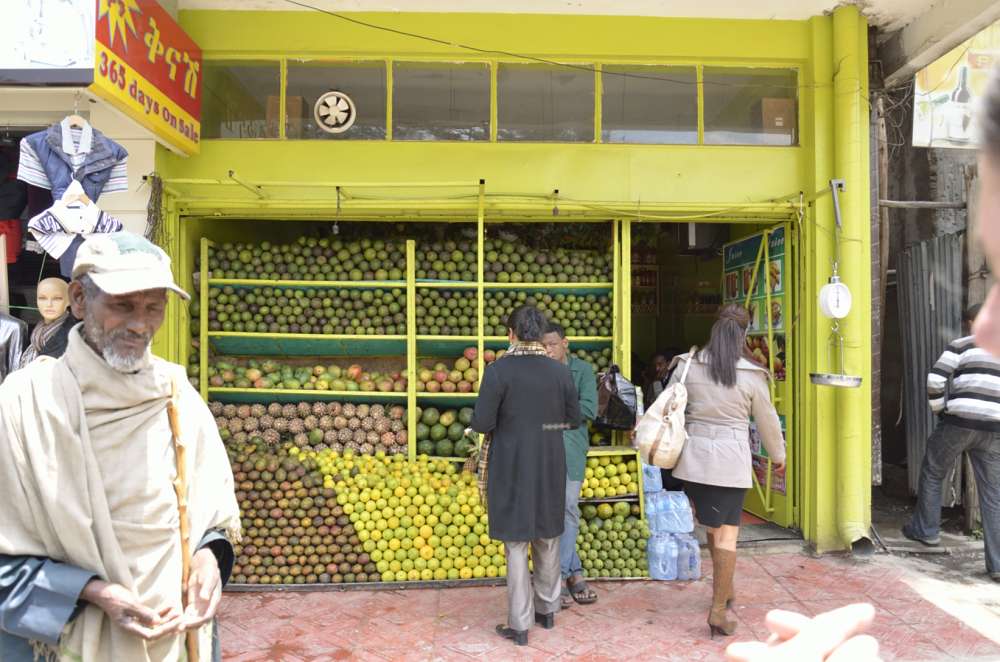 Arrived in Addis late Thursday. Not too crazy at airport. Queued for visa (very pretty). Went to bag reclaim and found the zip on pack from my big pack missing and all straps undone. Resigned myself to buying new socks and pants and could not remember what else was in there. Then it turned up. Hard to believe it detached itself…
Rebecca & Johnny at airport. Weather warm but very humid. Took shuttle to hotel through endless streets lined with green and yellow striped corrugated iron and dozens of shack shops with shelves piled high with everything imaginable. Modern 4x4s alongside put-puts and old crates with no lights.
Hotel slightly quirky version of Hilton. Bar mainly white people. Big wall plaque with bas relief of Selassie who opened the hotel in the sixties. Staff very friendly and helpful and polite. Drank late whilst waiting for Greville. Eventually get message that his luggage is lost & he is going to be a while – so we go to bed.
Wake late. Very humid and misty outside. Huge shanty town opposite us with plethora of satellite dishes. Mountain in the distance. Breakfast. Very good with full English, Ethiopian and continental on offer.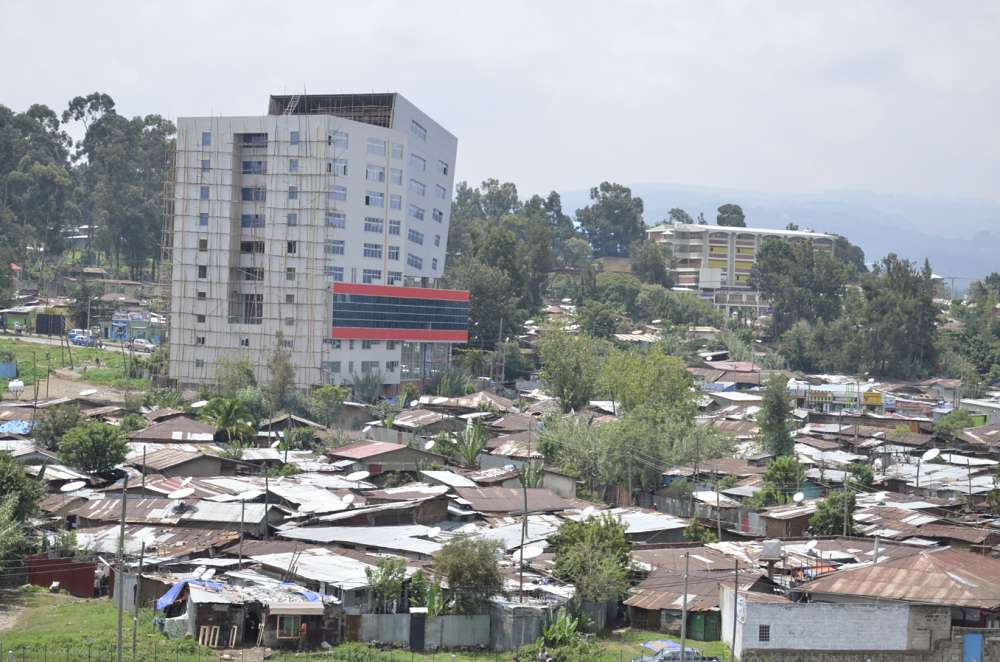 Greville is here. But his luggage is not. Not changed in fifteen years. Beautiful gardens and dozens of shops in corridors under hotel. Getting hotter.
Jonny & Menelek arrive and we all go for a walk. Now I know what they mean by culture shock. Immediately gather a gaggle of young boys offering advice, tours, historical info – all in very good English and very polite. We politely rebuff them but two persist and walk with us. Abraham and Abe. They teach us bits of Amharic and warn us about when we can and should not take photos – govt buildings absolutely not. There are signs affirming this. Also when we come to the big church – with chanting emanating – we all start to take pictures. Local older beggars start to shout at our 'guides' and they tell us no photos. They say these men are aggressive and if we persist they will take our cameras and beat up our guides. Whether this is true or not we don't know but we stop taking photos. Photo opportunities are everywhere but reticence stops me from taking many shots. Grab a few though. The people are beautiful and many very well dressed – though many are obviously destitute too with missing limbs. It is very humid and the lack of oxygen makes walking difficult. Amazed by the friendly smiles and greetings we get – even from the soldiers with their Kalshnikovs.

In the midst of this bustling city with its four lane highways there are people herding goats and sheep. Surprisingly most cars stop at zebras (crossings not the stripy equines) and even when they are not at zebras. At one point a beaten up old Lada holds up several lanes of traffic just so we can cross. A kind act but a bit scary for us. Buses are ancient and colourful and rammed. Shack shops abound and wherever there is a bit of space people are selling beautiful looking fruit and vegetables. A boy walks by pushing a barrow of prickly pear and two men with barrows full of tomatoes. We stop in a Greek Orthodox Church shop to look at the religious icons and 3d Jesus pictures. Then back to the hotel for a beer and a swim. The 'guides' are suitably rewarded – I think we are over generous but they don't complain. Some people say that this is misplaced generosity and we ruin it for subsequent tourists. I say bollocks put your hand in your pocket – we are talking a couple of beers here.
Surrounded by colourful and bold birds in hotel garden. Then discover something really annoying. What sort of bird obsessive goes on the trip of a lifetime to a place over provisioned with birds and leaves his binoculars at home? Me.
Afternoon we go to Mercato = the largest market in Africa. We are warned not to take cameras. Advice I bitterly regret that I did not ignore. But true it is very edgy at times. I will talk more about this in the next blog but being the only white people in a mass of thousands does make you realise a few things about the multi-cultural society we live in. And I would stress that we are treated with kindness and fascination by nearly everyone we meet there. But if I thought our brief walk this morning was culture shock I did not realise it was the tip of the iceberg. If I can work out how to get the pics of my phone on to the laptop tomorrow I will post some.
In the evening we ate traditional Ethiopian food and our first experience of Injeera. Which I liked enough. But first I will try to get on line and post this – not easy or cheap in Addis Ababa.